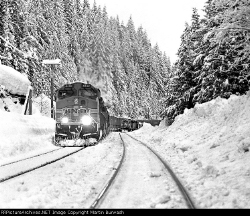 Welcome to the RRPictureArchives.NET contributor site of Martin Burwash.



Hi guys!

For a number of years I have been trying to find a place to build an online archive of my photography. I believe I have finally found a site that is going to allow me to do just that. Here you will find photos of the Northwest starting from the formation of the Burlington Northern in 1970, up to the present, and I hope, (good Lord willing)beyond. There will be a preference to mountain railroading and the human element. What you will see are railroad scenes, not all just trains and engines, from Stevens, Stampede and Snoqualmie Passes, as well as the Montana Rail Link. The yards and a few of the branchlines will not be overlooked, but you will see, over the years they have not been a high priority either.

What you will NOT see is color. My trademark, my love is black and white film images, and those are what will be presented here, without exception, without apologies.

Like the film from which these scans are made, this site will take some time to develope. So be patient with this old man.

Martin Burwash



You may browse my collection of pictures via the menu located on the left hand side of the page. I hope you enjoy the collection and thanks for stopping by!